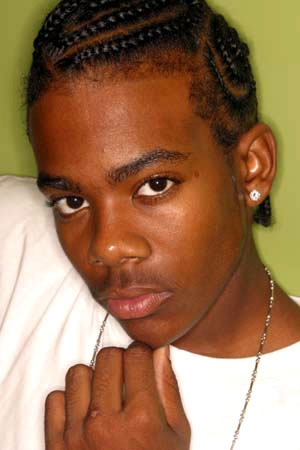 Mario's Biography:
Teenage singing prodigy Mario, began life as a big dreamer. In fact, he knew he wanted to be an entertainer when he was 4-years-old. Recalling the day he'd answered the career question. He says, "I was downstairs in my house barely dressed wearing mismatching shoes. My mother heard me singing and at first she thought it was the radio playing loud. When she came downstairs she was shocked when she realized it was me."
Every artist needs tools for his trade so upon discovering her son's expressive yet smooth, unconstrained, completely honest vocal ability she provided Mario with a karaoke machine and a piano, which she played quite well herself. The result was simple. "I played with the tools she had given me and went for broke! From that experience I have learned to create and develop harmonies by just listening to the melodies."
Born and raised in Baltimore, Maryland, Mario now resides in Northern New Jersey where he is a sophomore in high school. The former frequent talent show contestant remembers when not so long ago, he would enter more singing competitions that he could count. Fortunately for Mario the end result would have him fulfilling his dream of becoming the entertainer he was born to be.
Forging ahead, within months Mario - whose musical influences are Usher, Brian McKnight, Joe, and Stevie Wonder - went into the studio to record his debut album for J Records. The albums first single "Just A Friend 2002" was written and produced by musical veteran Warryn Campbell and pays tribute to the 80's hip-hop hit "Just A Friend" by legendary rapper Biz Markie is featured in the video clip of "Just A Friend 2002" which was shot on location in Mario's hometown of Baltimore.
In addition to Campbell's contributions, Mario's debut features production by Harvey Mason (Brandy, Babyface, Tyrese), Gerald Isaac (Mary J. Blige, Angie Stone) and five-time Grammy Winner Alicia Keys who contributes two stanout cuts "Put Me On" and "2 Train." "Not only is he full of personality" says Alicia, "he has one of the most beautiful and original voices I've ever heard from such a young man. He doesn't sound like anyone else and he already knows what he wants to do vocally. With time, he will only master this even more. That's my lil' man and I'm watching' over him."
When time permits Mario plays video games and football with his friends. "I have a thing for Playstation and I'm really competitive. When I'm not doing that I'm getting together with my friends and talking or playing football," says Mario. But since his free time is now far and few between, Mario will focus on preparing for his debut album to top the charts. "Maybe after I jump start my music career, I'll get into acting. Starring in a movie with Jada Pinkett-Smith," says Mario with a wide grin, "but until then, my main concern is making big things happen with this album."